How is Writing a Book like Launching a Startup?
Launching a company in 2019 can feel as easy as creating a Facebook page, publishing a half-finished website with a random color scheme, and putting "Entrepreneur" in your Instagram profile.
After you follow up with a social post announcement or press piece, hundreds of people start to like and comment.
When the curtain is pulled back, reality finally starts to set in: most young professionals who become first-time founders don't truly understand the essential frameworks they need to be successful.  
I am at fault for having this very same mindset; I started a company that stalled two years ago. Ever since, I've pursued intersectional roles to better understand what it takes to launch a brand and product that won't just flash in the pan.
Below, I've shared my best tips for launching a bestselling book. This how-to guide features general and applicable principles to launch any successful product.
The Key Ingredients for a Successful Book Launch
I've compiled the following advice based on my work on four book launches:
1. Build a Product for Others, not Yourself
Have you ever started listening to an entrepreneur talking about an idea to fix a personal problem they're dealing with, as if they assume everyone else would have the same problem, too?
The fault in this notion is that it's not about creating a product to benefit other people. Thousands of dollars later spent on developing their vision, founders eventually find out their product has no market fit.

While building his company TrackMaven, Allen Gannett listened to dozens of marketers share how they felt uncreative. He remarked,
"I left many conversations feeling as if I was creative therapist."
Led by the belief that creativity is a learnable skill, Gannett worked to overturn the mythology behind the "Creative Genius" by interviewing leading creatives, from academics and professional athletes to business celebrities such as Kevin Ryan, founder of Business Insider, and Reddit founder Alexis Ohanian.
Allen turned all this research into a book, which wasn't just a product to benefit himself alone. He made this resource to add value to a specific segment of the population and help them take the creative plunge.
2. You Can't Market to an Audience if you Don't Have an Audience
When speaking with authors or entrepreneurs, I've often heard the same narrative:
"I launched my product, but no one is buying or signing up."
The underlying causal factor is almost always the same; an innovator never defined the audience their product is intended for.

The average book sells less than 3,000 copies in its lifetime, yet Allen cultivated a focused audience of 60,000 followers on LinkedIn before his book even came out. To get started, he launched a series of videos on LinkedIn called #AllenAsks featuring interviews with high-profile figures who shared invaluable insights. Notable guests ranged from Kobe Bryant to Mark Cuban, and many more.
This unique publicity tactic made Allen more relevant to his target audience. When his book finally came out, people already wanted to buy and support his message. Using this strategy enabled Allen to sell thousands of copies by the first week of launch.
Whether you're building an email list, social following on various platforms, or a combination of both, a focused approach will make product distribution much more effective. Trying to create content or a product for everyone will almost always fail. The riches are in niches.
3. Establishing Credibility: What Makes you Different?
Why should someone buy your product when they can spend their time with your competitor?
This question trips up creatives who share even the most impactful work. If you're not well-known already, gaining credibility is instrumental to success.
Allen asked business authors from his industry space to write blurbs he could use both in his book and on its Amazon page. He reached out to successful and established names such as Dan Pink and Seth Godin, whose endorsements would bolster his own credibility and make it easier for people who came across Allen's work to have instant trust.
Another effective strategy is targeting micro-influencers who already have their own following.
Allen also built relationships with many other LinkedIn influencers. When the book was published, they shared videos about his book in full force creating a snowball effect, leading to hundreds of others doing the same.
Within the first few weeks of launch, The Creative Curve was featured in these press outlets:
Forbes
TEDx
Thrive Global
Cheddar
Squawk Box
Press doesn't automatically guarantee commercial success, but it's a great tool to guide brand perception.
4. Understand the Ask
When launching a product, many creatives feel uncomfortable making an ask. If a product is going to be successful, you must understand that it takes a village — even when the modern ideal is of a heroic entrepreneur doing it alone.
For Allen's book, asks were made for many purposes, like securing:
Launch event locations
Speaking opportunities
Press features
Bulk orders
Leverage your network for maximum impact by uploading your contacts to a platform such as Contactually and determine how each person can help you reach your goals.
5. Use a Multichannel Strategy to Build an Insider Community
For Nathan Latka's recent book launch, How to Be a Capitalist Without Any Capital, we used a multichannel approach across Twitter, LinkedIn, and Facebook.
We sent a series of scripts to people who engaged with his posts to buy the book. After they agreed to purchase, we asked them to join an insider group where we collected their emails and phone numbers.

From there, we sent them Twilio messages with post links to have them engage with the latest content. Imagine this technique at scale: built out 300+ times, we reached a level of virality, engagement, and hundreds of pre orders within a few weeks.

If you couldn't already tell, this tactic requires an exorbitant amount of street hustle, emotional intelligence, and communication skills.
6. Identify Overlapping Audiences and Channels
Allen's book had a strong following from the young entrepreneurship and creative sector. It especially appealed to businesses that lacked creativity in the marketing space.

From a PR perspective, I created targeted lists:
Podcast hosts
Youtube influencers
Instagram influencers with relevant hashtags in their profiles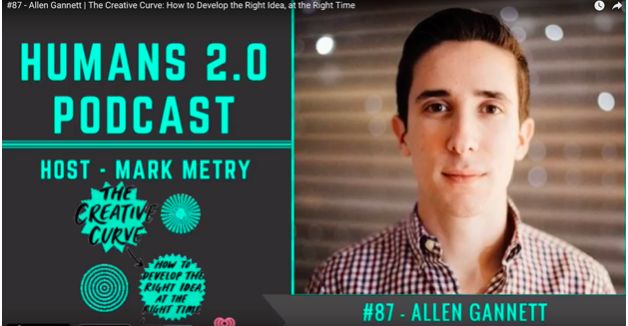 I reached out to them directly and figured out how to get Allen on their show. How we actually did that? That's a secret. 🙂
7. Create a Referral Program
Once we built the Insider Group for Nathan's book launch, we created a referral program for people to join as members.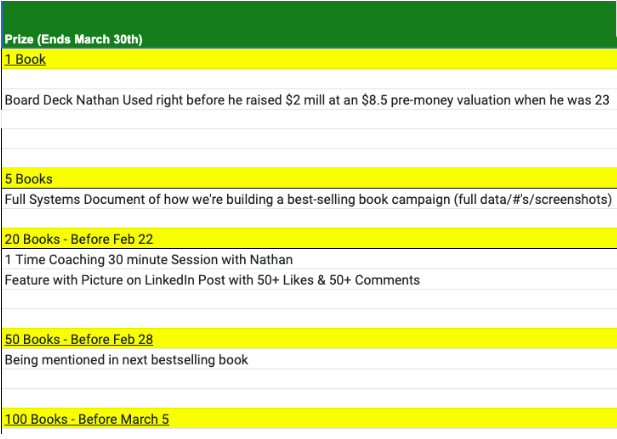 We incentivized them based on how many books they helped sell. 15 people participated, driving hundreds of more orders.
8. Use Facebook ads as a Framework:
In addition, through the emails we collected and Nathan's email list, we used FB ads to drive clicks to the website, where we could retarget users. At the bottom of the website, we had a place for people to claim their bonus and send in their receipt for the book.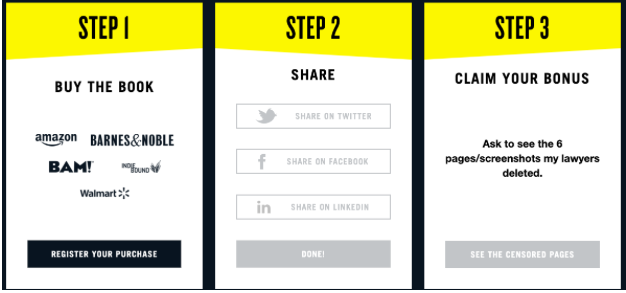 Nathan put the Intercom system on his website. We tasked Aswin John, who now runs our SEO at BW Missions, with management. As we drove thousands of people to the site through PR and FB ads, they could either pre-order the book or reach out on the Intercom, where Aswin pushed hundreds more orders through.
9. Leveraging PR and Swapping Assets
Through Nathan's podcast and distribution, we secured placements featuring him in Morning Brew and PRSUIT, which have a combined audience of 1.5 million subscribers.
Instead of using the Amazon link to buy the book, we used the website link, as we had the pixel tools installed so we could retarget the users and "get in front of them again"
10. Plan Effectively
Authors often think they can enter a cave for two years and simply come out with a published book that sells millions of copies. In reality, it takes a very thorough and strategic plan. There are thousands of decisions to make to achieve your end goal.

I suggest starting to think about marketing your book and building your brand at least a year in advance. Think at a macro level. When you get down to the micro plan, you'll have week by week and day by day plans to get there.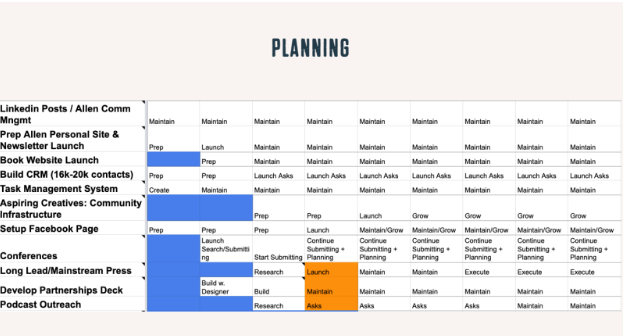 11. Leverage Relationships
Organize your contacts in a software and create tags. For Allen's book launch, I created tags on the right hand side of the image below. I organized each contact in his network so I could reach out to at a later date based on the desired action.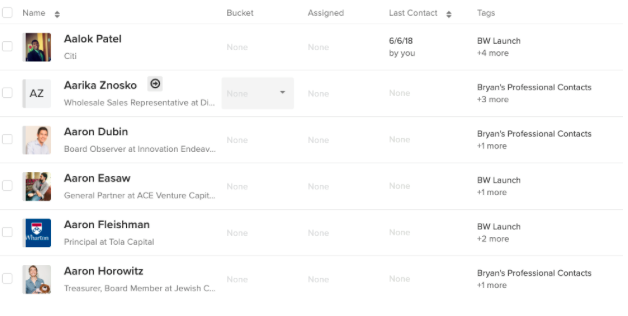 Some contacts might be best to ask to speak at their event, while others are more likely to buy a book or even to speak at their company and purchase the book in bulk.
12. Throw a Book Launch Event:
Once you've built a community online, you'll have an extensive list of contacts to invite to your event. We used Eventbrite for Allen's and sent out invites using the Scale Mail feature in Contactually, and built grassroot marketing teams in each city who promoted the event on the ground floor to local startup audiences.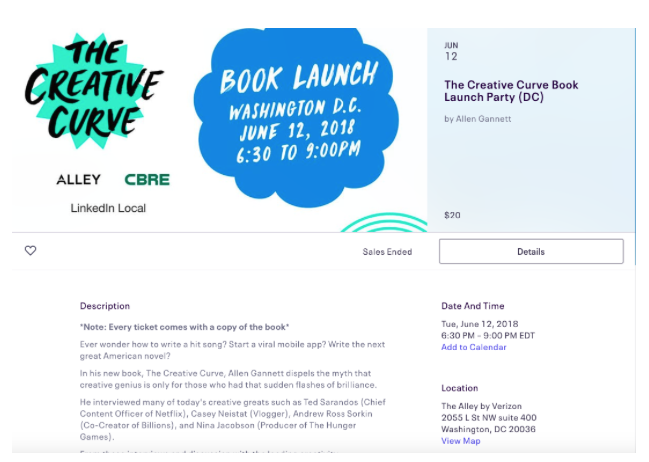 The result? More than 70 people showed up to each event, and they were all a raging hit.

To top it all off, we ordered beverages and snacks from Fresh Direct. With our attendees well nourished, they happily created earned media for us by posting to LinkedIn, Facebook, Instagram story to spread the book. It's the little touches that matter.
Launching a book is a very challenging endeavor that demands intensive planning, brand building, content development, PR, relationship management and more.