Welcome to BW Missions Newsletter 21
As we transition into high school, our identity is continually taking form, shaped by the changes we're going through – and we're usually painfully aware of these changes. Puberty is known as our "awkward phase" for a reason, right?

I remember …
My first growth spurt: Boy, junior year couldn't come fast enough.
Sneaking my first sips of alcohol and learning pretty fast that I'm a cheap date!
The first "semi-serious" relationship in my life going terribly wrong – don't they all tend to in high school?
Struggling with academics, especially math; I had to stay after school for extra algebra and physics for almost every class!
Getting cut from the basketball team not once… but twice! My hard-headedness persists to this day, but now I know how to harness it a little better 🙂
Taking a punch to my gut- like, literally not figuratively, my friend punched me in the stomach when I took the girl to prom he wanted to ask (in my defense, he never told me!)
Most relevant to this newsletter, I remember my Dad telling me how important it was to focus on one thing. My brain felt like it was full of air bubbles as a teenager- so many ideas, so little direction.
No matter where you fall on the akward spectrum, we all carry these quirky gifts with us as we move forward in life. Among all the noise in even the darkest moments, look for the light. It's always there, waiting for you to find it. Youth, when people who haven't been fully shaped yet, is the period during which we are the most formidable- the ones who believe in themselves before the world tells them they can't.

Yesterday, I spoke at the Veale Youth Entrepreneurship Conference in Cleveland, Ohio. Talking to these kids felt like connecting with the kid I once was: the kid brimming with ideas who always wanted to do every single activity with no understanding at the time why I was drawn to them. It was refreshing to see the optimism on their faces, the way they saw the world, and the energy they brought to the event.
The most special part was seeing the group I worked with during the design hackathon. Showing them what they could create with creative reuse and then bringing together a product that was designed to drive conversation and create a cultural connection between the United States and Africa.
When they first started, they had no idea what to create, and I was able to guide and lead them to the final result.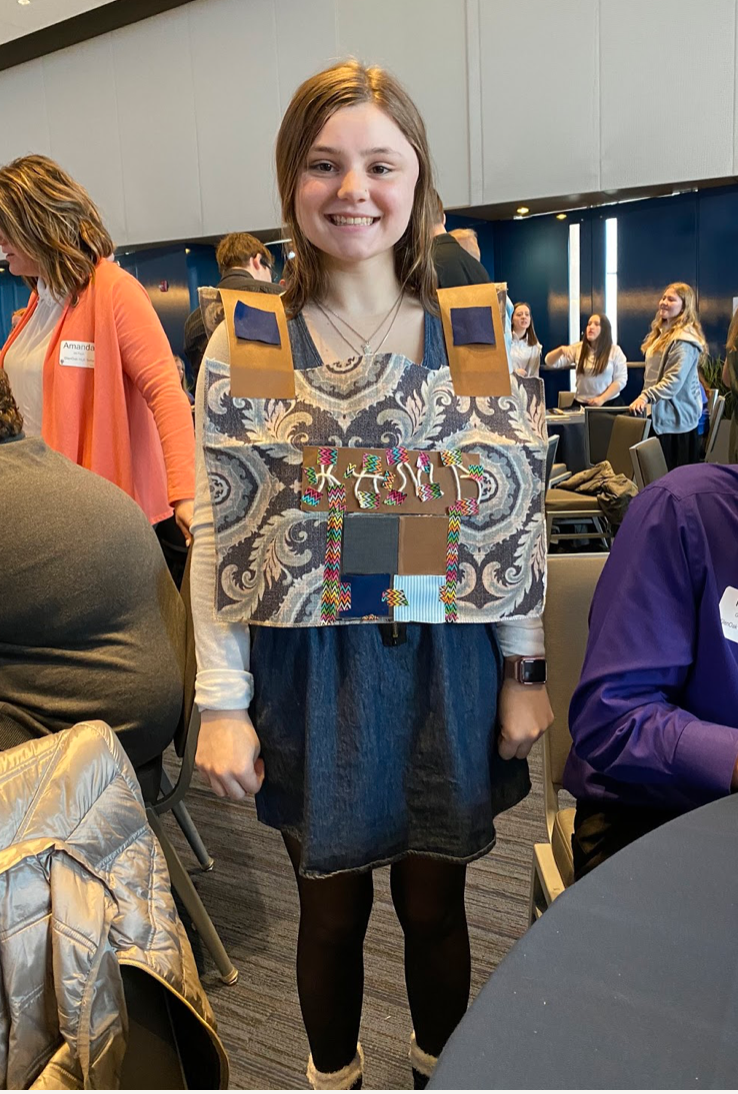 I remember being that kid, too, wanting to create with no idea how, and not even a glimpse of the path to start heading down.

When the moderator, Justin Lafazan, Founder of NGEN Summit, asked me about the path I have been following, I tried to put myself in the shoes of being in high school again … and I replied:
"In high school, I always felt a little different from the pack. It was that open feeling inside of me that realized how I wasn't part of X or Y group. I was just myself, always trying to fit in and never really fully 100% like me fully embracing my individuality. Nonetheless, I kept following my intuition and delving fully into my deepest curiosities. Now, I feel like I can show up personally and professionally 100% aligned to who I am."
It's a powerful feeling, being fully yourself without having to hide behind a false or even just blander persona to be accepted at a company or by a person in your life.
Being 100% comfortable in your own skin takes a lot of internal work like self discovery and tribefinding – but it's so liberating and gives you the ability to fully connect with those around you.
So no matter how different you feel or have felt in the past, dig into that, understand why that feeling exists. Once you tap into it, push full speed ahead into the direction you feel in your bones was designed just for you. This is how you truly stand out. Let this feeling transport you to the destinations you're truly meant to go in all areas of your life.
---
Max Friedman: Newsletter 21 Featured Mission
Max Friedman is one of the most genuine, empathic, caring, and smart people I have ever met. He's also part of the next batch of D.C. Entrepreneurs leaving the city 💔.
Mixed emotion has never felt more real: Sad he's leaving, but happy he's going to Boston so I can visit him.
As CEO of Givebutter, their growth in just four short years has been nothing short of incredible. It's especially impressive in such a crowded vertical. His company just received their first round of funding, and it stands leagues apart from the competition within the fundraising ecosystem. I'm beyond excited for Max to begin his next chapter in Boston as he continues to empower nonprofits to fundraise for truly meaningful causes.
P.S. His team's awesome customer success manager Tori Meglio recently launched Givebutter's referral program– check it out!
How to Cultivate Self-Awareness Based on Your Personality Type
---
Growth: Newsletter 21
Self-awareness has been front and center for me lately (in case you couldn't tell from all our recent content!), and I've been devouring everything I can find to read up on the most recent research. I can't stop thinking about this fascinating study from the Harvard Business Review. I'm diving deep into this topic in the context of my own life and business, and can't wait to unveil my next piece in the series. In the meantime, I wanted to share this article with you, which features a data-driven approach to cultivating deeper self-awareness.
Fun Fact: Author Tasha Eurich's research shows us 10%–15% of people studied actually fit the criteria for being self-aware.
---
Opportunities: Newsletter 21
Join the Joiya Family
My good friend Chris Brown (No, not that Chris Brown), started a woman's health company to help give other women financial freedom as wellness advisors. They have so many great CBD products, and he swears it helps reduce inflammation in his shoulder. If you know any entrepreneurially driven women who want to be part of a community, check out this page or link your friends in here!

Country Roads Angel Network (CRAN)

West Virginia is one of the most economically depressed state in the US. For many years, WV has relied on the coal industry to provide jobs, tax revenue, and livelihoods for a large percentage of West Virginians.

This has been a growing problem for a long time, and to combat the reliance on this industry and to stimulate the diversification of the economy, CRAN was born. The aim is to provide early seed funding to companies in West Virginia. Our hope is to work with organizations like WV Hive across WV to get entrepreneurs ready to be put in front of our investor members. If interested in learning more, email ==> pballard@wvcran.com

---
Resources: Newsletter 21
Catalyze Faster Growth By Improving Your Cold Calling Skills
Morgan J. Ingram and I have been good friends since college. Check out his recent feature on the SDRevolution sales series! I highly recommend this episode, where he delves in-depth about prospecting and cold-calling techniques. If you or anyone you know works in the fascinating world of sales, this is a must-see!
Learn to Live like a Legend
Tommy Breedlove is like a second dad to me, and I'm so proud of him for his recent publication. Since the moment I saw him speak at a conference in Atlanta, his conviction has captivated me. He held the rapt attention of the entire massive audience, and I felt his genuine warmth as soon as I walked up to him after the speech. Tommy and his wife took me in like a son, giving me a great couch to sleep on, taking me to many Falcons and UGA games post college and more. Read about what makes Tommy so special in his new book, Legendary!
Find the Fuel You Need to Power Your Company's Takeoff
Mark Green, Business and Leadership Growth Coach, and I have spoken extensively about the dynamic between the visionary and the integrator. He recommended I read Rocket Fuel: The One Essential Combination That Will Get You More of What You Want from Your Business. While I haven't read (yet), it looks like a foundation book to help scale.
Relational Reset: Evaluate Yourself, Your Emotions, and Your Interpersonal Skills

I've seen my shortcomings firsthand in my inability to read and lead people around me effectively. Laws of Human Nature by Robert Greene is a doozie, but I'm so glad I found it. This book will give you so much helpful knowledge to learn about yourself, understand your emotions, and become more relationally aware. I'm 300 pages in out of the 500+ total, and I already know it's one for the ages.
"Communication is just as much about what you don't disclose as what you do say."
In any social situation, from hanging out with friends to the most formal of business meetings, nothing good has ever come from overanalyzing people or trying to read into what they mean. It's easy to become caught up in your own negative assumptions, but empathy and emotional intelligence are critical here.

Look closely and pay attention to less obvious social cues and indirect statements that convey their needs. This will make you better attuned to their desires, and might even give you some clues about what to do next (e.g. reply to an email a specific way, handle a situation that could become confrontational, and more). It's all about asking more questions and listening to others. Check out more of my thoughts on this in my recent LinkedIn post here!